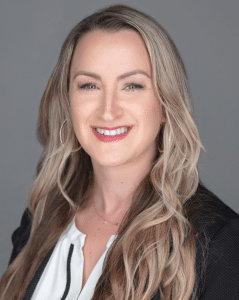 How Can I Help?
Anxiety, Depression & Feeling Down, Marriage and Couples Counseling, Career Counseling, Grief Counseling, Adjusting to Illness, Low Self-Esteem, Life Transitions, Chronic/Serious Illness, Relationship Issues, Coping Skills and more...
About Lisa, LCSW, OSW-C
Hi! I'm Lisa. I'm born and raised in Long Island, NY, however I have been living in Florida since 2015. I live in the Tampa Bay area with my husband and Goldendoodle, River. I'm a coffee lover who enjoys a good read for leisure and being outdoors at any chance I can. I love to connect with others through meaningful conversation and travel. Whether it's exploring nearby unexplored gems or driving a little distance– I love to uncover new places to eat good food!
Why I became a counselor.
I've always truly felt counseling is what I was called to do. I enjoy working with others to help them through life's peaks and valleys, however it wasn't until a personal family experience that I realized just how much of an impact a social worker had on me directly that I knew it was what I wanted to do as my career. I remember my first social work class, my professor so caringly went around the room asking "why do you want to be a therapist?". Most responses, including mine at the time was 'to help others'. It wasn't until the end of the class he shared an analogy that reframed my understanding of a therapist's role in a therapeutic relationship. That analogy was that of a caterpillar transitioning to a butterfly. That even so lovingly, as therapists, if we help a caterpillar break out of their cocoon, even as they struggle, that it can prevent that caterpillar from developing its own wings, colors, and life. It was then, that I realized, the therapist's role is to aid with guidance and support—to help others help themselves. To re-discover, identify their own strengths, and experience life with appreciation and joy.
Education, Experience, and Approach.
I am a Licensed Clinical Social Worker and certified in working with those affected by cancer or serious illness. I earned my Masters in Clinical Social Work from the University of South Florida in 2017 and my Bachelor of Social Welfare from Stony Brook University, New York in 2015. I am licensed in the state of Florida and have been practicing for 5 years.
My approach is warm, empathetic, interactive, and attentive. My hope is to create a partnership with you to help guide through life's transitions and adjustments. Especially recently, life can present challenges that may feel overwhelming. These challenges can lead us to feeling alone, helpless, and isolated at times. Whether it's high stress impacting your concentration, feeling anxious and overwhelmed, not sure what your goals in life are, experiencing feelings of intense sadness, or having relationship challenges, together we will develop goals collaboratively and address them through evidenced-based care approaches such as solution-focused, cognitive behavioral strategies, or mindfulness based practices to name a few that are uniquely tailored to your particular circumstance and goals.The therapeutic process can provide new perspective, guidance, and hope. I am passionate about supporting individuals and couples through the journey of self-discovery by creating a safe space for you to process and make long-term change.
My experience has been in working with individuals impacted by cancer or a life threatening illness. I have been providing counseling to individuals, families, and couples who struggle with adjustment, experiences with trauma, crisis intervention, transitions, loss of identity, grief/ bereavement, mood disorders such as anxiety and depression, and changes to life plans, including career counseling.
Often, taking the step to seek therapy for the first time can be scary, however my hope is to make you feel comfortable and never judged. My goal is to provide you a safe space to share the things you've struggled with comfortably so you can find joy in life.